Electric Vehicle Rule Will Be a Huge Win for the Climate-and New Mexico's Economy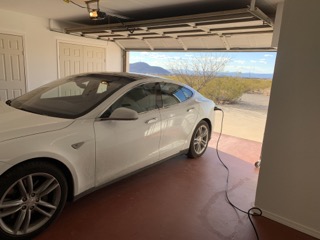 Next month, New Mexico regulators will consider joining the latest version of Advanced Clean Cars, a program designed to slash pollution by requiring automakers to deliver an increasing number of new zero emission vehicles for sale in the state starting in model year 2027.
If New Mexico joins Advanced Clean Cars, it would become the 10th state to do so, alongside California, Colorado, Massachusetts, Maryland, New York, Oregon, Vermont, Virginia, and Washington. New Mexico and 16 other states are already participating in an earlier phase of the program.
Advanced Clean Cars would constitute one of the most significant steps New Mexico has ever taken to reduce life-threatening air pollution and combat the climate crisis.
The program would literally save lives, preventing 136 premature deaths over coming decades by replacing gasoline and diesel vehicles — which emit deadly particulate matter and other harmful pollutants — with non-polluting alternatives. In addition, the rule would prevent up to 139 million metric tons of climate pollution by 2050 — more than the entire state of New Mexico emits in a typical year.
The benefits don't stop there. The standards would save New Mexico consumers billions of dollars by ensuring that they have access to a wide variety of clean, affordable vehicles. A typical EV can save you up to $17,000 over the lifetime of the vehicle because electricity is cheaper than gas and EVs require less maintenance. The cost of purchasing an EV is falling rapidly as well. With federal incentives, new EVs are expected to cost $5,400 less than comparable gasoline vehicles by the time Advanced Clean Cars applies in New Mexico, a dramatic change from just a few years ago.
Given these facts, it is easy to imagine a scenario where demand for EVs soon outstrips supply. When that happens, manufacturers will send EVs to Clean Cars states — where they can generate valuable credits — skipping over states that are not as supportive of clean vehicles. Joining the Clean Cars program will ensure that New Mexicans have access to EVs that are in highest demand, including the most affordable and best-performing models.
Careful study of industry trends and the experience of other Clean Cars states shows there is little downside for New Mexico. Certain concerns can be dispelled right away. The rule does not impose any requirements for vehicles that are already on the road. Nor does the rule prevent consumers from buying new gasoline vehicles if they chose to do so. The only thing the rule does is require manufacturers to deliver an increasing number of non-polluting cars and trucks to the state.
Concerns about vehicle range and charging infrastructure are also quickly becoming a thing of the past. The average range of an EV sold in the United States last year was 290.8 miles — enough to drive from Carlsbad to Albuquerque without stopping to charge. Plug-in hybrids are another option for New Mexicans who want to save money on gas while still having flexibility to fill up the tank if they need to.
Charging stations are also becoming easier to find. Already New Mexicans can find ultra-fast Level 3 EV chargers across the state from Lordsburg to Gallup to Wagon Mound. And many more are coming. According to the New Mexico Department of Transportation, there are currently ninety ultra-fast EV chargers under construction at 40 different locations across the state. An additional $38 million in federal funding will further expand the state's charging network. And New Mexico's investor-owned utilities are investing tens of millions of dollars of their own to build new chargers. By the time ACCII takes effect, it will likely be as easy to find an EV charger in New Mexico as it is to find a gas station.
The question for New Mexico is not whether there will come a day when every new vehicle offered for sale in our state is electric. Just as surely as the smartphone replaced the flip phone, EVs will replace gasoline vehicles. Because EVs are more economical, easier to maintain, and better for the climate, consumers and manufacturers are rapidly making the switch on their own. By 2030, analysts expect that EVs will constitute more than 60% of new light-duty vehicles sold nationwide. Automakers are increasingly going all in on EVs, with Volvo and Cadillac planning to stop selling polluting vehicles by 2030 and GM planning to offer an all-electric fleet by 2035.
The question is whether New Mexico is a leader or a laggard. Adopting Clean Cars means manufacturers will deliver more EVs to New Mexico in the early years of the transition away from gas vehicles. That means New Mexicans will reap the vast health and economic benefits of this transition sooner than non-Clean Cars states. The net societal benefits of joining the Rule are astounding — $300 million by 2030 alone, reaching $40 billion by 2050. That is not an opportunity we can afford to pass up.
David Baake is an electric vehicle owner and clean energy attorney in Las Cruces. He represents a coalition of environmental and public health groups in the Advanced Clean Cars II Rulemaking.
Client Reviews
Get in Touch
Fill out the contact form or call us at
(575) 343-2782
to schedule your free consultation.
1

Free Consultation

2

World Class Education

3

Track Record of Success